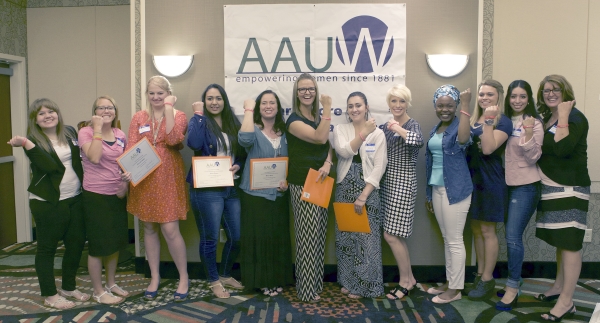 2015 Scholarship winners from L-R: Kayley Hopster, Jay'Lee Stratton, Samantha Matthis, Norma Venegas, Monica Miner, Suzette Rawlings, Kaitlynn Hanberg, Lauralyn VanWagoner, Hiqmat Onifade, Jessica Russell, Karina Loeza, Kimberly Bowler Photo by: Daphne Selbert
I am very excited about our upcoming Scholarship Luncheon. It is our most popular event and so effectively supports our mission to advance equity for women through education and philanthropy. As a result of a very successful Gala in October, we will be awarding scholarships to 34 impressive women.
The Scholarship Luncheon is very special to our members because it exemplifies our commitment to making a difference in the lives of women and girls. As individuals and as an organization we profoundly believe in the power of education to enhance the lives of women and families, and the social fiber of communities. The luncheon program evokes emotions that include pride in being part of the collective effort to make a difference, satisfaction in supporting the scholarship program, joy in honoring the memory of a loved one, or special individuals in our lives, and the pleasure of giving back to our community.
This year has been memorable. Through the leadership of our Scholarship and Gala Chairpersons, and the many volunteer hours of their committees, our scholarship program has grown. Our success could have only been accomplished through the generous contribution of time and talent of all involved.
In addition to recognizing our scholarship recipients, we will be acknowledging our outgoing and incoming Board Members and Committee Chairs and presenting the AAUW St. George Branch 2016 Distinguished Woman Award. I will have the honor of announcing this year's recipient at the luncheon. Our 2016 recipient exemplifies a commitment to women's equity, advancement and education.
A warm and heartfelt thank you to all of you for making this year an incredible success.
Donna Howell
President

Gloria Prahl, front. Back row l-r: Kay Ackerman, Colette Thomas, Vicki Jennings, Rosemary Hargrove, Bonnie Boling, Sandy Ghio
Our Public Policy Committee hosted their first "Lunch-n-Learn" on April 12 at the Social Hall. The topic: Pay Equity in Utah and the U.S. or as The Spectrum said: "Utah Women Voice Frustrations on Equal Pay Day." Committee Chair Gloria Prahl submitted this account:
"Our speaker, Mary Ann Holladay, a member of our branch, came from SLC fully prepared with a presentation that has been described as educational, fantastic, humorous, and just plain wonderful. Thank you Mary Ann. The food was prepared by branch members, some were committee members and other volunteers. It was delicious ....with many people requesting a repeat next year. We had an attendance of about 60 people.
Mary Ann Holladay (l), Beverly Hill (r)
"The second event, an Un-Happy Hour was held at Xetava Cafe from 4:00 p.m.-6:00 p.m. We had 60 or more in attendance. This time, they had to pay for their food and drinks.
Pam Wootten, Hazel Janet Millerberg
"The owner, Greg Federman, not only let us use his Cafe, but also donated 20% of the money to AAUW St. George, a sum of $200. Everyone seemed to enjoy the Un-Happy hour! So much so that we had to ask a large group to leave close to 7:00 p.m. so the staff could clean up and go home to their families. Greg is planning on our doing it again next year. Thanks to all who were involved, especially to one of the best committees I have ever worked with."
Gloria Prahl
More pictures by Daphne Selbert are here.
Join or renew now for membership that starts July 1, 2016 and runs to June 30, 2017. We ask if you are thinking of paying National directly that you do not. There were a significant number of issues having payment processed through them last year -- which included us not receiving notification and therefore not knowing you're a member! Due to an increase in state fees full membership (National, State and Branch) is $80. Affiliate is $18 and Scholarship Recipient Branch membership is $10.
Please use the online form -- to renew or join -- even if you plan on paying by check.
eSMART Camp is just around the corner! Vicki Jennings is setting up an online volunteer system that includes scheduling and timely email notifications. This will be incredibly useful for this year since we are trying out a one, five-day camp instead of two shorter sessions. Please let Vicki, Erin or Robyn know that you're willing and available to help out with eSMART.
Click here for a copy of the flyer to share!
Despite a change of dates for TechSavvy the day-long event was a success! Big thanks to Erin, Robyn and Rachel for taking charge and all of the volunteers who made it happen.
We bid a joyful-sad farewell to our oldest member, and Queen for the Day, Sherma Bishop during our April luncheon. Sherma is relocating to Columbus, OH to be near family...Our heartfelt condolences to Dorothy Engelman for the loss of her mother Gladys Hughes.... Lolita Hagio checked in with Annette Basso after hearing the news of the earthquake in Equador. This is what Annette had to say "We are fine. The Andes didn't have any destruction or fatalities, all the damage was on the coast. And, it is DEVASTATING!!! I'm trying to put together a fund for people in Utah and the Utah Rotary District to contribute to. The people who are the hardest hit here in Ecuador are the poorest and need the help the most. Because of the decline in oil prices, Ecuador is suffering from a lack of government $$$. I'm going to work with Bev Christy to see what we can do together to hole here. Thanks for your concern. I really appreciate all of the emails and messages from my St George friends who are concerned!!! Let people know that we are fine."

"Save the Date" for the 2016 State Convention
and Annual Meeting!
Join us at the AAUW State Convention to move our organization "full steam ahead." Hosted by AAUW Salt Lake City Branch April 29th & 30th at the Cottonwood Country Club in Holladay, Utah 84117. There will be informative workshops and a Science, Technology, Engineering, + Arts & Math (STEAM) panel presentation. STEAM embraces the idea of broadening our focus to include the arts.
April 29th
5:30-7:00 pm - Leadership Workshop with Melodía Gutiérrez, AAUW Field Representative (includes light refreshments)
April 30th
8:00-8:45 am: Registration and Continental Breakfast
8:45 am - 4:30 pm: AAUW national presentation by our own Janet Bunger, AAUW Finance Vice Chair; Annual Meeting; STEAM panel; Luncheon & Recognition of Distinguished Women; Workshops on Utah Women Artists Exhibition, Women's Leadership, and Membership; Installation of Officers
Registration Fee: $50
Look for more details and registration form by the end of March. If questions, contact Kathy Boyer (801) 581-0211 or Georgette Kapos (801) 540-0101.
April
04-05 Jillian Wyson
04-07 Jo Davis
04-11 Joan Eggert
04-13 Barbara Mathison
04-15 Celece Seegmiller
04-19 Teri Koenig
04-25 Jeannette Johnson
04-25 Barbara Rose
04-29 Vicky Pickett
May
05-01 Laura Lojko
05-02 Gloria Prahl
05-04 Kayley Hopster
05-09 Lori Baum
05-13 Vicki Jennings
05-14 Mona Clark
05-15 Janie Gibson
05-21 Lisa Scarafiotti
05-23 Rosemary Hargrove
05-25 Kim Bowler
05-27 Peggy Lloyd
05-28 Hazel Janet Millerberg
05-31 Sherry Floerchinger
05-31 Julie Halla-Joel
June
06-10 Katie Armstrong
06-12 Glenn Campbell
06-18 Daphne Selbert
06-19 Stephanie Cannon
06-20 Jane Blackwell
06-23 Gail Winterfeld
06-25 Laura Rodelander
06-26 Pamela Wootten
06-30 Marilyn Wenzel

Calendar items will run until the event has occurred. Please submit your event by the 7th of the month you want the notice to start. No forms - just send a regular email message with your information in the message itself or as an attached document. Send to: lysa@riverroad-productions.com
April 29-30, 2016
Date:
April 29-30, 2016
Time:
Starts 5:30 Friday evening
Where:
Cottonwood Country Club
1780 E Lakewood Dr.
Holladay, Utah 84117
Cost:
$50
Contact:
Kathy Boyer 801-581-0211
Georgette Kapos 801-540-0101
May 2, 2016
Date:
Monday, May 2, 2016
Time:
11:00 a.m. - 1:00 p.m.
Where:
Courtyard Marriot
Cost:
$16 Reserve NOW!
June 27 - July 1, 2016
Date:
June 27 - July 1, 2016
Time:
All Day
Where:
DSU
Contact:
Erin O'Brien

Robyn Boudreau
News / Announcements
Etcetera
Subscription Info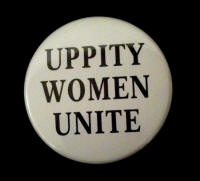 NEWSLETTER SUBMISSIONS
Please submit news, information, committee updates, etc. no later than the 7th of the month to be included in that month's newsletter.
If you are including a picture please be sure you have the right to use it.
Send to:
Lysa McCarroll
The St. George Branch Program and Membership Meeting Luncheons are held on the first or second Monday of each month at 11:30 a.m. at the Courtyard by Marriott, located at 185 S 1470 E, St. George, UT 84790.
Lunch is $16.00 per plate and features educational speakers that are of interest to our membership.
---
11:00 a.m.
Doors Open
11:30 a.m.
Lunch is Served
11:45 a.m.
Meeting Begins
12:00 p.m.
Program Starts
1:00 p.m.
Luncheon Over
---
September 14, 2015
October 5, 2015
November 9, 2015
December 7, 2015
January 4, 2016
February 1, 2016
March 7, 2016
April 4, 2016
May 2, 2016
---
RESERVATIONS ARE REQUIRED
Click here for a copy of the flyer to share!

Board Meetings are held at the DiFiore Center starting 4 p.m.
July 13, 2015
August 10, 2015
September 21, 2015
October 12, 2015
November 16, 2015
December 14, 2015
January 11, 2016
February 8, 2016
March 14, 2016
April 11, 2016
May 9, 2016
June 13, 2016
Us In The News
ELECTED OFFICERS
President
VP/President-Elect
Co-Vice Presidents Membership
Co-Vice Presidents Resource Development
Co-Secretaries
Co-Vice Presidents Communications
Lysa McCarroll
(Transitional)
Dawn McLain
Past President /
Nominating Chair
Project Managers
Corresponding Secretary
Lolita Hagio
Email
Phone: 652-3012
Newsletter Editor
Lysa McCarroll
(Transitional)
Website/Social Media
TBF
PR/Publicity
Lysa McCarroll
(Transitional)
Branch Photographer
Daphne Selbert
Historian
Nan Bujold
COMMITTEE CHAIRS
eSMART / TechSavvy
Erin O'Brien
Rachel Ramsay
Great Decisions
Carol Sawaya
Mentors
Jane Blackwell
Public Policy LAF/EOF
Gloria Prahl
Reality Store
Vicki Jennings
Scholarship
Shannon Andersen
Pat Dalpiaz
STEM
Donna Howell
State
Branches
Advancing equity for women and girls through advocacy, education, philanthropy and research.
Our Principles
Our actions reflect our mission and are ethical, honest and professional.
***
We challenge our thinking on contemporary issues through stimulating discussions and activities
***
We foster an environment built on respect, a value for diversity of opinion, and a belief that members approach issues with good intentions.
***
We resolve issues face-to-face whenever possible, avoiding triangulation.
***
When conflicts surface, we seek resolutions rather than blame and ask for assistance if needed.
***
We hold each other responsible & accountable for exemplifying our guiding principles and fulfilling our individual responsibilities.
***
We support board decisions and each other and celebrate our unique gifts.
***
Mailing Address
AAUW - St. George Branch
P.O. Box 790
St. George, Utah 84771
435-525-2979
---